1978 was a year of giants among Receivers, these top end Monsters pushed peoples lounge-rooms and wallets to the limits as Pioneer and Marantz suddenly found that they were no longer alone at the top.

SX-1980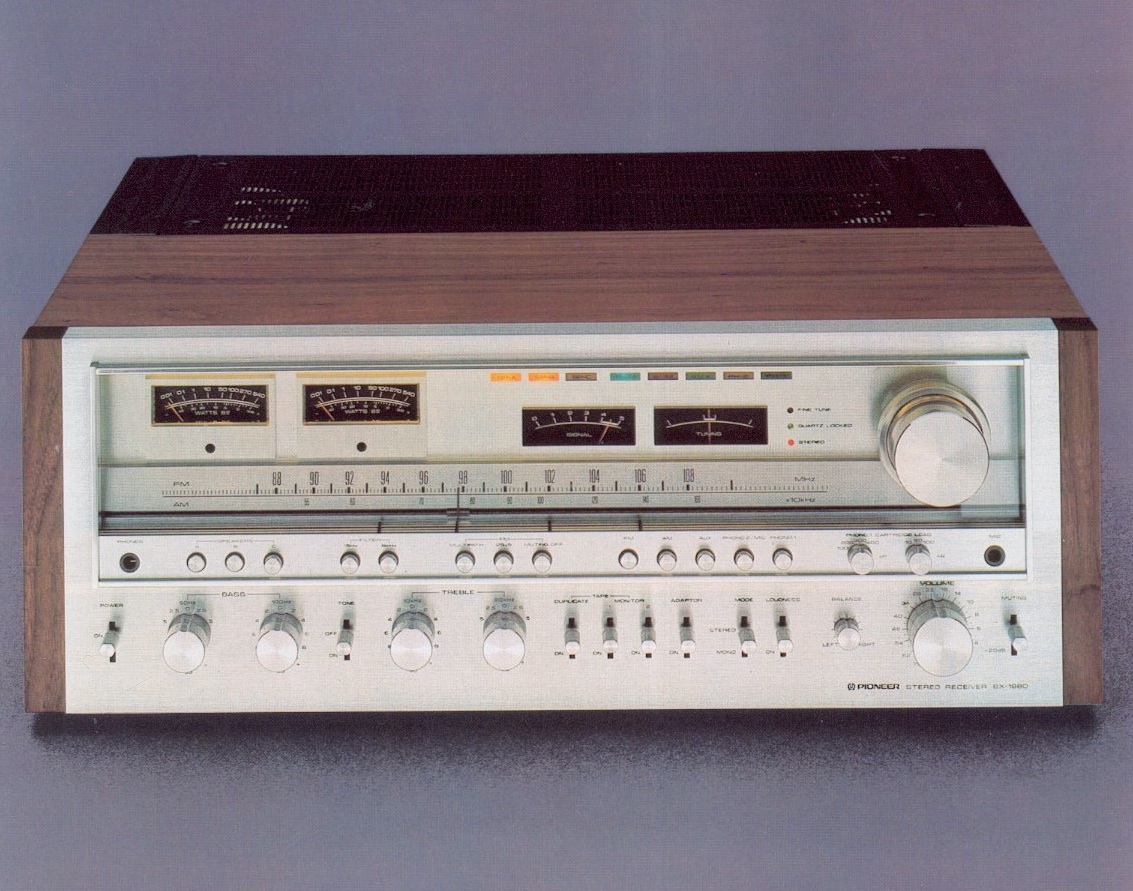 Pioneer SX-1980 1978 RRP USD $1,250.00
2015 Inflation Adjusted RRP USD $4,560.00
It wasn't long before Pioneer emerged back at top place in the Receiver Wars with the launch of what was perhaps the most famous Receiver to come out of this period, the Pioneer SX-1980.
Once again topping the pack, Pioneer's SX-1980 packed a whopping 270 Watts RMS per channel, a full 110 Watts more than their previous top model.
However unlike in the past where Pioneer had trumped all competition by a huge number of Watts, the SX-1980 was released with a convincing but modest 20 Watts RMS per channel more power than the Marantz 2500.
It appears Pioneers focus had shifted to new fronts in the Receiver War and with the increase in power also came a decrease in total-harmonic-distortion with an incredibly low rating of 0.03% THD.
At it's core was essentially the same amazing power-supply that powered the SX-1250 which featured a 22-pound toroidal core dual wound power supply with 4 Huge 'Coke Can' size 22,000uf filter capacitors.  Pioneer had also invested heavily into a new transistor technology that generated less heat at higher power, negating the need for cooling fans that other brands were now integrating into their top models.
They had also caught onto the popularity of VU meters and incorporated attractive black backed meters into their fascia, which now featured brighter brushed aluminium. This Receiver also came with one of the most configurable phono pre-amp's I've ever encountered.
This was to be Pioneer's final salvo in the Receiver War, and boy, did they make it a good one!

Marantz Model 2600
Marantz didn't lag far behind Pioneer and released the Marantz 2600 in the same year. In typical style Marantz would not be satisfied in simply matching or just beating Pioneer's SX-1980 and so they hit the magic figure of 300 Watts RMS per channel.  
Now while this is a huge power rating it does not represent the quantum leap in power Marantz had made with the Model 2500 – if they had we would be looking at a 500 Watt RMS per channel amplifier!
Bearing in mind that DJ's were at this time using various models of these 'Monster Receivers' in discos, clubs and bars – perhaps the Receiver War was approaching the usable and practical power limitations of what could be comfortably enjoyed in even the largest of lounge rooms!
Today the Model 2600 is one of the rarest and most sort after Monster Receivers and they have been rising dramatically in value in recent years, with the trend currently heading north of $6,000USD and some have even been offered for $67,000USD!
Short Specs: Power: 300 Watt RMS Per Channel @ 8ohms with no more than 0.03% THD from 20 to 20,000 Hz.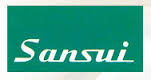 By late 1978 it seems that Sansui had finally woken up to the fact that there had been a Receiver War raging for most of the decade!
After cruising along from 1975-78 with the Sansui 9090 as their top receiver with a now seemingly measly rating of 125 Watts RMS per channel, Sansui took a shot at the top position and released a new monster line of Receivers with their top model, the G-33000, rated at a huge 300 Watts RMS per channel.
This massive beast was actually divided into two separate components with the power amp and power supply built into a separate box. Retailing for $1,900 USD in 1979 this would price this unit over $6,200USD today.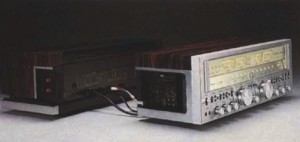 It's massive power supply housed two separate toroidal transformers and four 15,000uf filter capacitors.
Other monster receivers of this era had created toroidal power supplies with independent windings on the same core, now Sansui had introduced a Receiver powered by two completely separate toroidal transformers.
But it's raw power wasn't the only thing this receiver had to shout about, it had reduced harmonic distortion down to a incredibly low 0.009% at it's full 300 Watt RMS per-channel output! It also sported impressive slew-rates which were becoming an increasingly important metric towards the end of the 70s.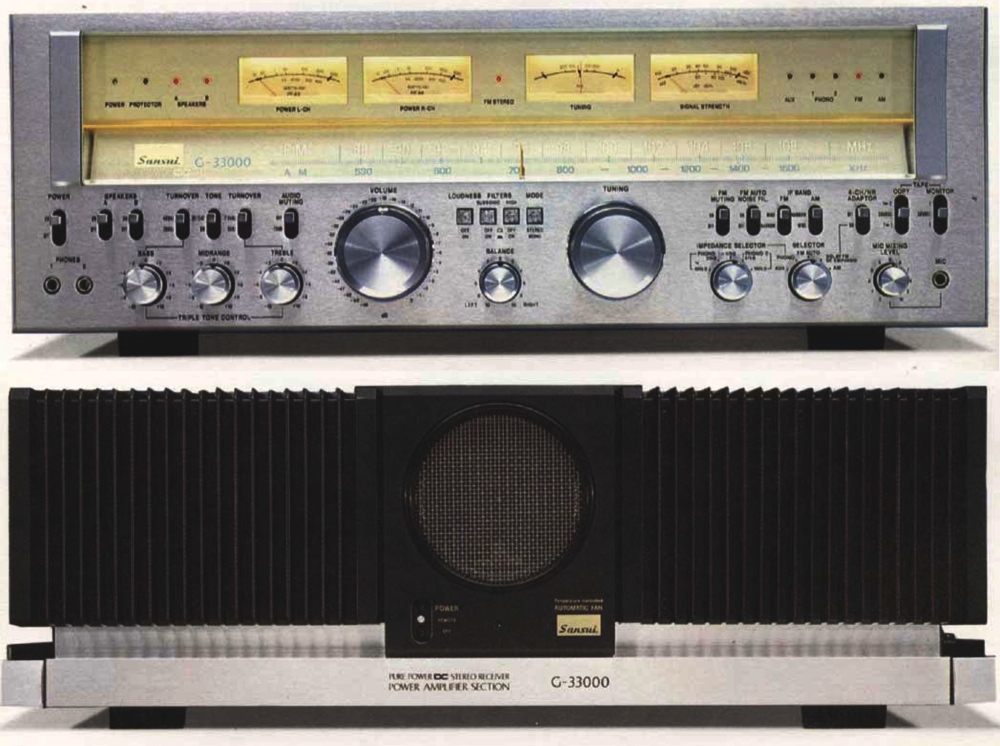 The winner of the 1978 Power Wars would have to go to Sansui. Although it ties with the Marantz 2600 in terms of power output, the Sansui wins out in another key metric being THD with Sansui's 0.009% trumping the Marantz 2600 rating of 0.03%.
Posted In: Article, Featured
Tagged: `, receivers wars