1977 saw another flurry of activity as those already in the competition released new models and some new players suddenly decided to enter into the Receiver War. It not only saw a quantum leap in terms of power but saw a new front in the Receiver War open up as well.
Technics SA-5770

It was not typical for HiFi manufacturers in the 1970s to have such a short product life-cycle, but Technics released the SA-5770 hot on the heels of their previous years model the SA-5760. It did not appear to have any appreciable difference to the SA-5760 and produced 165 Watts RMS @8ohms with 0.08% THD.
Inside it appeared much the same as the previous model as well. 
The only reasons I can think of for it's release was either that it was purely for marketing purposes – as in 'Hey, look at our new model!' or perhaps it was a bug-fix for the previous model??? (note: this is conjecture only and I am not aware of any actual problems in the SA-5760).
Yamaha CR-3020
Yamaha receivers from this period are renowned for their unique sound and are considered very high speed amplifiers with some vintage audiophiles suggesting that these amplifiers make regular speakers sound like monitors.
Up to this point Yamaha had been content doing their own thing but in 1977 they suddenly woke up to the markets demand for power and entered the melee with their CR-3020 Monster, equaling Pioneer SX-1250 with 160 Watts RMS per channel.
Yamaha utilised a laminate core dual-secondary power supply with 2x 27,000uf filter capacitors to drive the amplifier. But what was remarkable about this Receiver wasn't it's power output, it was that Yamaha had made marked improvement in total harmonic distortion reducing it down to 0.03% at its rated output of 160 Watts RMS across an amazingly wide harmonic spectrum of 5Hz to 100,000Hz!
This put the CR-3020 in a complete class of its own and heralded a new front in the Receiver War. Many manufactures had been content with a low THD rating of 0.1% however after the CR-3020, Monster Receivers now not only had to have the most RMS but also the lowest THD possible.
From a price perspective I have seen literature that indicated the the retail price in 1977 for this unit was $1,500.00USD which would make this the most expensive receiver we have yet seen in the war and would price this unit at around $5,890.00USD today! (2015)
Kenwood KR-9600

The 1977 Kentwood KR-9600 featured 160 Watts per channel RMS power and was powered by a laminate core transformer with dual secondaries and 4x 10,000uf capacitors. It was heavily promoted as featuring a dual power supply. With the release of this model it appeared that Kenwood were content with 'keeping up' in the Power Wars as opposed to breaking new records.
This model also saw a slight improvement of THD with a rating of 0.8% at the rated power output but measured over a much broader frequency spectrum of 5Hz to 50,000Hz, perhaps this was influenced by Yamaha CR-3020.
The amplifier was a Three-Stage design with the Power Amplifier Stage consisting of  a Pure Complimentary Parallel Push-Pull OCL design incorporating a large IC Darlington Power Block to produce what Kenwood described as 'exceptionally clear, smooth, silken sound'.
This Kenwood also included other great features such as Dual Stage, Triple-Tonal Controls, Dolby FM and Two Phono inputs with Dual Phono Pre-Amps to allow for a wide selection of cartridges.
Cosmetically this unit was a very attractive piece and was aimed at the 'pro' market by including rack mount handles and integrated left and right channel VU meters, a feature almost all future Monster Receivers would come to incorporate.
Another dark horse suddenly entered the Receiver War and raced to the top for a brief time and claimed the prize of having the worlds most powerful Receiver.  
Not a name you would normally associate with high-end audio components today, Hitachi released in November 1977 the SR-2004 – a 200 Watt RMS per channel Receiver.
This surprising beast was built on a power supply of very similar design to Pioneer's SX-1250 with a large toroidal transformer with dual-windings upon a common core and 4 filter capacitors with a combination of 2x 18,000uf and 2x 10,000uf caps.
This Receiver stands alone in the Receiver War with it's unique Class G amplifier. Headroom in amplifiers from the mid 70s had been a big thing, but Hitachi claimed that this amplifier had the headroom to allow for brief periods to double it's rated power output, apparently a feature of Class-G amplifier architecture. Reportedly this  amplifier would run cool even when being pushed to it's limits.
Hitachi being a electronics components manufacturer meant that almost all the components in this unit were produced by Hitachi with the exception of the transformer and the filter caps. 
Again this amplifier was competing in the new front of the Receiver War and showed a slight reduction in THD with a rating of 0.08% across a broader frequency spectrum of 10Hz to 40,000Hz. Cosmetically this receiver was very similar to the Pioneer SX-1250, especially in it's rear-end, however it incorporated the now highly popular Analogue VU meters into it's fascia.
Dimensions: 580 x 186 x 447mm Weight: 25.5kg
Model 2500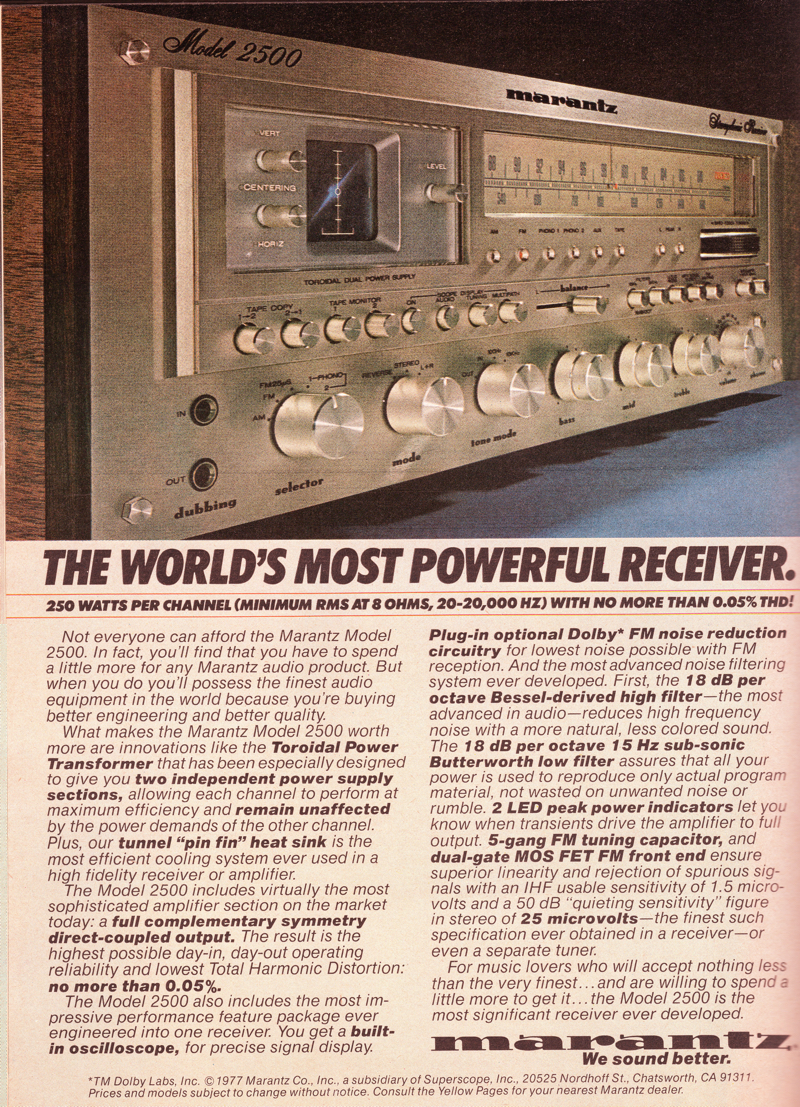 Marantz who had been pro-active in the battle from the get-go, understood that it was pointless to merely equal their competitors power ratings. To maintain a dominant position in the market they had to SMASH IT!
And that they did with the release of the Marantz Model 2500 in 1977 with a thunderous rating of 250 Watts RMS per channel, beating the SX-1250 by a whopping 90 Watts RMS per channel, and Hitachi's rating by a convincing 50 Watts RMS per channel!
Marantz had also moved to introduce a toroidal core transformer coupled to two 'dual' filter capacitors rated at  7,200uf x2 for a total capacitance of 14,400uf per 'capacitor'.
The curious thing to note here is that this Marantz 2500 has less total capacitance then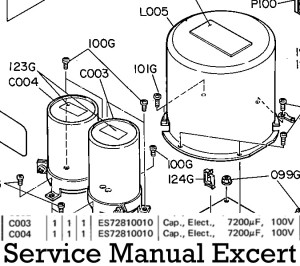 their previous top model the Marantz 2325 but was delivering double the power? I will leave the question as to how this would effect its dynamic power performance up to the listener.
The amplifier section incorporated Direct Coupling with a Quadrupled-Parallell Output Stage and the chassis was fitted with a cooling fan which would have required further shielding to prevent noise from leaking into the amplifier, however this fan apparently did its job very well and reportedly this model ran very cool even when pushed to its limits.
The Model 2500 also saw a marked improvement in Harmonic Distortion with a rating of 0.05% THD at it's full power of 250 Watts RMS 8 ohms per channel measured between 20Hz to 20,000Hz.
An aesthetically impressive unit the Model 2500 also featured an oscilloscope display for added pleasure, along with all the bells and whistles one could expect in top model.
With an original retail price of $1,750.00 USD on release in 1977 would price this unit at over $6,870.00 USD in 2015, and make it the most expensive Receiver in the War to date.
Marantz had decisively won the power wars in 1977 in what can only be described as a quantum leap in power output. Marantz had once again made their mark as both leaders and innovators of High Fidelity.
Posted In: Article, Featured
Tagged: `, receivers wars