While in 1975 the Receiver War had seen no new victor rise to the top, 1976 would see the War enter a new gear and Pioneer would once again be the catalyst.


Pioneer had not been idle during the course of 1975, and while their competitors scrambled to match the SX-1010 in power, Pioneer had been slowly and deliberately designing and perfecting their next beast. In 1976 Pioneer released the legendary SX-1250. The SX-1250 Retailed for $900.USD in 1976 which today (2015) would equate to ~$3,760.00USD in 2015.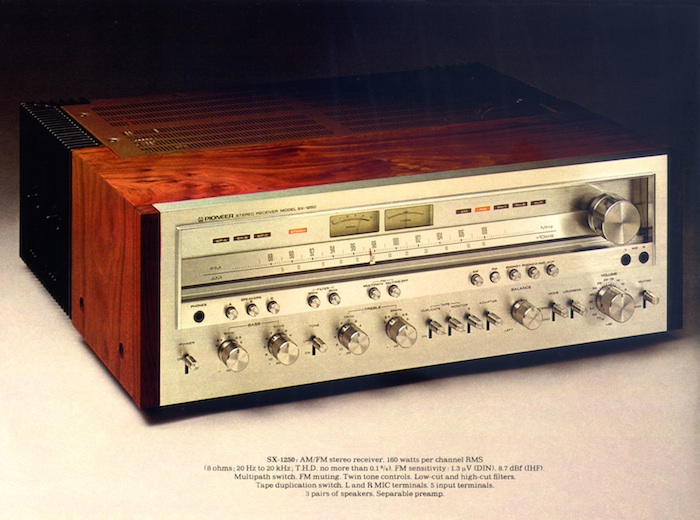 Smashing the performance of even their closest competitors in terms of RMS power the SX-1250 boasted a stunning 160 Watts RMS power per channel at 20 to 20,000Hz, Pioneer was once again top dog.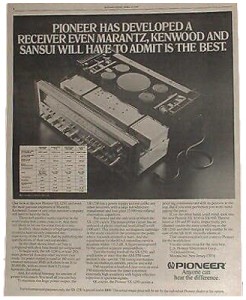 And Pioneer was not shy about it either! Their advertising material cheekily embarrassing their rivals by publishing their competitors top Receivers specs along side the SX-1250 with the tag line – "Pioneer has developed a receiver that even Marantz, Kenwood and Sansui will have to admit is the best."
Released as their flagship product the SX-1250's build quality and craftsmanship was astounding, virtually hand-made in their Japanese plants, no expense was spared in this units design and manufacture.  Not only would this Receiver produce a whopping 160 Watts RMS per channel, it also introduced improvements throughout the entire system, the attention to detail in the design of this beast was evident on all levels, even down the the star-quad wiring implemented to reduce electromagnetically induced noise – today this same technique is now used in high-end studio microphones and boasts that it can reduce the noise from stage-lighting consoles to 1/10th that of 2-conductor cable.
The foundation of any amplifier is the power supply and the one in this unit was like nothing before seen in a Receiver. It featured a 22-pound toroidal core transformer with independent dual windings and four massive 'Coke Can' size 22,000uf capacitors! Toroidal transformers offer benefits of being less susceptible to power fluctuations and less likely to create noise than laminated core transformers. 
As it turned out no Receiver of this period (or since?) can claim an equal to the power supply contained in the SX-1250 with it's 88,000uf total capacitance.
The amplifier sections utilised a two-stage Class A architecture in the pre-amp and a triple-stage Darlington Direct-Coupled OCL Circuit in the Drive Stage and a Parallel Push-Pull Circuit in the Output Stage.
This design ensured a thunderous minimum 160 Watts RMS per channel at 8 ohms with only 0.1% Total Harmonic Distortion measured from 20Hz to 20,000Hz.
The SX-1250 wasn't just a blunt instrument created simply to claim a title in raw power, it was truly revolutionary in it's design and features – and it's build quality was unrivalled by any Receiver before or since. It is not an overstatement to suggest that this Receiver redefined 'top-of-the-line'.  To this day the Pioneer SX series from this 1976/77 range are considered to be by many enthusiasts the best Receiver line ever manufactured by Pioneer.  
Technics SA-5760
As if from nowhere Technics suddenly decided they needed to pump-up-the-volume and made their debut in the Receiver Wars with the introduction of the SA-5760. This Technics Monster was rated at 165 Watts RMS per channel with only 0.08% THD, just edging over Pioneer's SX-1250 power rating of 160 Watts.
It might not seem like much, but remember only a few short years earlier, component amplifiers had been offered by these brands with a total power equivalent of only about 5 Watts RMS per channel!
The SA-5760 power supply featured two 22,000uf caps and a laminated core transformer with dual secondaries, all to power it's  amplifier consisting of 'Para-Push Pure-Complimentary, Direct-Coupled OCL Circuit with Single-Pack, Matched Differential Transistors.'
This item retailed at ~$799.00USD in 1977 dollars, which would equate to around $3,132.00USD in 2015 dollars. This priced it very competitively against Pioneer's SX-1250 and the other Monster Receivers of the time. This budget/price angle was also heavily promoted in Technics  literature at the time.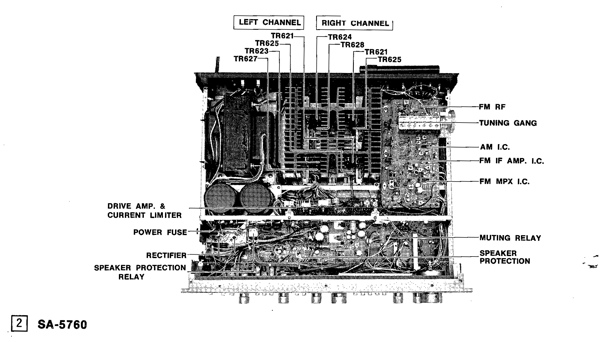 Specifications
Tuning range: FM, MW Power output: 165 watts per channel into 8Ω (stereo) Frequency response: 20Hz to 20kHz Total harmonic distortion: 0.08% Damping factor: 60 Input sensitivity: 2.5mV (MM), 200mV (line) Signal to noise ratio: 78dB (MM), 95dB (line) Output: 200mV (line) Speaker load impedance: 4Ω to 16Ω Dimensions: 550 x 175 x 493mm Weight: 23kg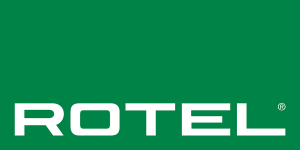 RX-1603
Original 1976 USD RRP: $1,100.00
Inflation Adjusted 2015 USD RRP: $4,605.00
180 Watts RMS per channel at 8 ohms with 0.1& THD from 20-20,000Hz
Rotel has operated since the late 1950s and initially manufactured products for various HiFi brands including Harman-Kardon, H.H. Scott and Marantz. It wasn't until 1969 that the company started producing units under its own name, and in 1976 Rotel entered the Receiver War with a 180 Watt blast! 
The RX-1603 is certainly a righteous Monster and Rotel showed that they were serious by topping the RMS power scales for 1976 by producing this 180 Watts RMS per channel mega-beast. A mega-beast because it weighed 33kg and was so deep the rear section containing the power and power amplifier section was made to be detachable for easy stowage — but does this disqualify this unit as a Receiver? Technically yes, but hey we'll make an exception 🙂 (Actually this receiver shipped as a bolted together 'single' unit and the kit that allowed for separation wasn't even available until the year after it was released.)
This rear compartment contained a massive toroidal core transformer and two huge 22,000uf filter capacitors and the power amp. Aesthetically Rotel refused to imitate the competition and produced their own unique look with their yellow/orange back-lit dials and futuristic-industrial styling.
The RX-1603 features included twin headphone jacks, frequency adjustable bass and treble tone controls, high and low filters, stereo and mono controls, dubbing controls, twin turntable inputs and outputs for three pairs of speakers.
While Technics had exceeded Pioneer's SX-1250 by 5 Watts and Rotel by 20 Watts they had done it with power supply's of only half the capacitance and of less sophistication than that of the SX-1250. But in a war of metric's Rotel now held on to claim of having 'The World's Most Powerful Receiver!'.
Posted In: Article, Featured
Tagged: `, receivers wars