1975 was busy year for audio component manufacturers, Pioneer and Marantz had blown away the competition the previous year with doubling and even tripling the power output of their rivals who were now scrambling to catch up. But would anyone topple Marantz's claim of the most powerful Receiver?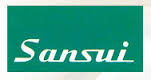 Sansui's top-of-the-line 1974 Receiver the 'Eight' was being marketed as 200 Watts in an IHF rating but was only scoring around 60 Watts RMS in the new FTC standard. With their most powerful amplifier at the time only offering 85 Watts RMS, Sansui had to lift their game.
And that is just what they did in 1975 releasing two entirely new receivers – the Sansui 9090 and 8080.
The Sansui 9090 was often advertised with a rating 120 Watts RMS per-channel as in their 1975/76 Buyers Guide, however when one turned to the back of the brochure where the model specifications were kept it could be seen that the 120 Watt rating was only achieved at 1000Hz and when rated across a frequency spectrum of 20Hz-20,000Hz that rating dropped to 110 Watts RMS per channel.
While not claiming a new power title, Sansui had comfortably entered the ball park and had positioned themselves neatly between Pioneer and Marantz in the power scale.
One thing to note about the 9090 however was it's relatively small filter capacitors that were part of the dual power supply. The Sansui 9090 sported two 6,300uf capacitors, these were less than half the capacity of the capacitors contained in the Marantz and only slightly over one-third of the capacity of those contained in the Pioneer.
Typically filter capacitors are used to supply a ready reservoir of power to the amplifier so that if the music demands it, power is readily available to draw upon. This is often referred to as 'headroom' or 'dynamic power', however this can also be impacted upon by the type and size of the transformer used. Personally I have not as yet listened to a Sansui 9090 so I will reserve my opinion until I have.
The 9090 was to remain Sansui's top receiver until 1979 but did receive an upgrade to include a Dolby processor in 1977 and an extra 15 Watts RMS in power to deliver a total of 125 Watts RMS per channel across the 20-20,000Hz spectrum.
Today the Sansui 9090 and the 9090DB are considered by collectors and vintage audiophiles as one of the finest must have items of this era and are highly sort after items.
KR-9400


Kenwood would also step-up into the RMS Battle of 1975 with the Kenwood KR-9400 featuring a power rating of 120 Watts per-channel RMS under the FTC standard.
The amplifier architecture employed was a Direct Coupled Pure Complementary Symmetry Output Circuit powered by a large Dual Power Supply featuring two generous 15,000uf filter capacitors.
Other features in included triple tone controls for bass, treble and mid range calibration, inputs for two turntables, mic mixing and tape  system that allows the user to listen to another source while dubbing.
Retailing for $750.00 (~$3,316.00 USD in 2015) Kenwood had priced their beast right in between Pioneer's SX-1010 and Marantz's 2325, no threat of a price war here!
By the close of 1975 Marantz still held the claim to fame as having the most powerful Receiver on the market! Had Sansui and Kenwood miscalculated market forces by ignoring  the new-found thirst of consumers for RMS power? Had they unwittingly put themselves behind by only approaching the RMS power of their competitors existing products from the previous year? 
Posted In: Article, Featured
Tagged: `, receivers wars