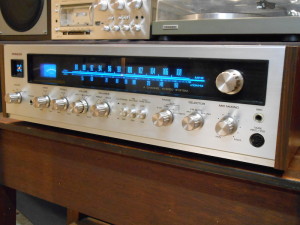 And you thought glowing blue electronic devices were only a new millennium thing! Back in the 1970s Pioneer produced some stunning gear, however when piecing together a complete HiFi from their component catalogue the combined price could easily exceed that of a new car! Surprisingly in 1970s America a lot of people were happy to pay that as well!
So for the folks in the more impoverished countries like Australia who could just not afford to blow that kind dough, Pioneer put together some complete systems designed to be sold together as a package at a fraction of the price of their component gear. 
A friend of mine who is an accomplished jazz musician was amazed when he saw my Prelude, he had purchased the complete system back in the 1970s brand new. He had many fond memories of this unit and supplied the above picture of him and his HiFi.
This Receiver Model is not to be compared to Pioneer's high-end QX range of Quadraphonic Receivers or their high-end SX range of Stereo Receivers. Sadly I have seen some unscrupulous sellers on eBay try to pass off these units as part of the QX range!
Budget models such as the  Rondo and Prelude ranges saw many cost-saving measures taken which included the use of small transformers and the use of only a single small filter capacitor in the power supply.
That said the unit does have very good build quality, especially in the wood vinyl case, and doesn't suffer from vinyl peel that afflicted even high models from various manufacturers in the late 70s. It looks great and would suit a small apartment or space in which huge amounts of power is not needed either as a stereo unit or as an introduction into the realms of Quadraphonica.
Quadraphonic Amplifiers & Receivers were not merely 4 speaker stereos, these were the original surround sound processes of the era. Quadraphonic suffered from a format war the likes of which has never been encountered since with a myriad of competing formats and devices such as reel-to-reel, 8-track and vinyl.
This model supports both Discreet (for 4 track sources) and SQ Quadraphonic for Vinyl, with SQ being one of the most available media formats. Incidentally these units can also be adapted for modern home theater use as the discreet component option allows for four independent sound channels.
Specifications:
Posted In: Quadraphonic, Receivers