Original 1973 MSRP $USD > $830.00
Inflation Adjusted 2015 MSRP $USD > $4,400.00
***
Akai's 1973 product catalogue is one of my favourites. It's exuberant, colourful and full of beautifully designed and crafted audio gear. This is, of course, one of those pieces…
The AS-980 is Akai's top-of-the-line Quad-Monster Receiver for 1973 through 1975. I decided to introduce the term Quad-Monster to differentiate these beasts from the top-end Receivers of the Receiver Wars while still awarding them the title of Monster. Why? Most of the high-end Quadraphonic Receivers are typically physically impressive Beasts that possess huge dimensions needed to house the four separate amplifiers required. And the AS-980 is no exception, being the widest Receiver I have seen to date enter my collection it measures 66cm or 26″ wide – this is a full 10cm wider than my Pioneer SX-1980 Stereo Monster Receiver in my collection! I placed a coke can into some of the above shots to better enable the viewer to appreciate the dimensions of this Beastie!
The early 1970s saw the major manufacturers embrace 4-channel Quadraphonic sound seeing it as the next big thing. Decades before Dolby Digital Surround was introduced Quadraphonic sound saw a battlefield full of formats and the consumers of the time must have been a little bewildered and confused about just which quadraphonic format to choose. Akai's solution to this quandary – pun intended 🙂 – was to pack their high-end Receiver with every Quadraphonic Decoder available!
As such the sheer size of the unit was also necessary to house all the controls and displays necessary for both stereo sound reproduction and the quadraphonic settings.
You might think that you would need a Pilot's license to operate this Beast, so I thought it might be fun to take a journey across the fascia. Moving from left to right the controls for mains power, speaker selection and the 2-channel or 4-channel mode selector. This Receiver accommodates up to 3 pairs of speakers allowing you to select a 2 pair combination for playback at any time. And in Quadraphonic this actually translates into 6 pairs of speakers in total with up to 4 pairs of speakers operating at any one time. So this amplifier while operating in a Quadraphonic mode could have 8 speakers pumping at once!
The 2/4 channel mode selector switch is such a great feature because many other manufacturers placed these on the BACK of their Receivers and Amplifiers, and some even involved changing or rotating a plug that needed the use of a screwdriver! On this side of the display are the dual tuner controls representing tuning and signal strength. The next section incorporates independent Bass, Treble and Left and Right Balance controls for the Front and Rear channels. It also features independent Loudness controls for each of these channels, this is the only model I have come across to have this feature! Next to this is a linear potentiator for controlling Front and Rear Balance.
The centre of the fascia is dominated by two large and important looking knobs that are for Main Volume, Balance and Tuning. One unique feature is a Volume Limiter device placed around the volume knob. I've never come across this anywhere else to date! It surrounds the volume knob and allows you to rotate it to set a desired maximum limit, the device will stop the volume knob from rotating beyond it without a fair bit of effort. A great idea to protect the unit from kid and teenager abuse 🙂
Around these are placed some push button controls for Muting and High and Low Filters and a DIN plug for an external remote control, the Akai RC-4. I have been looking around for this remote, will let you know if I come across it. Directly above this the display features and attractive blue-lit tuner dial and illuminated pointer.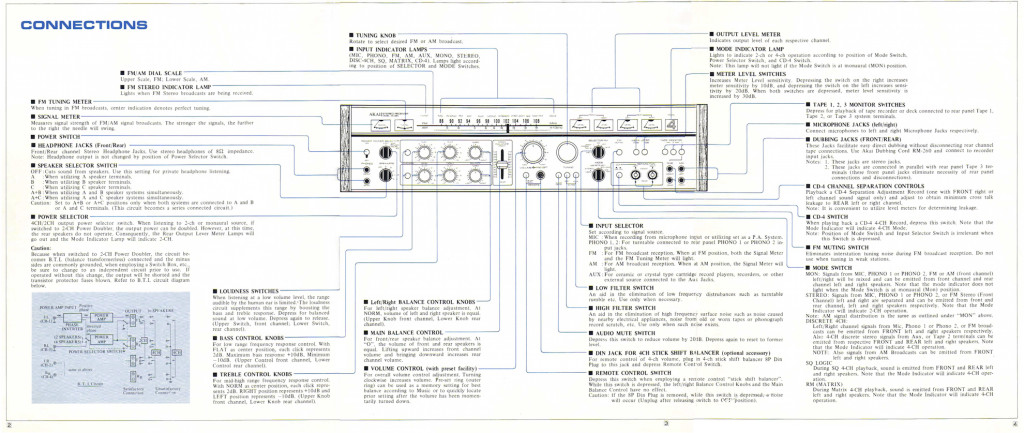 The next section offers two dials. One gives the user a generous selection of inputs or music sources to choose from, including my favourite being two turntable inputs, as well as a MIC and an AUX option.  Below this is a 4-channel mode selector offering options for Mono, Stereo, Discreet, SQ and Matrix. Right next to this is the CD-4 decoder controls. Again Akai was on the ball and thoughtfully placed the CD-4 separation controls on the Front Panel (many other manufacturers would place these on the rear of their units).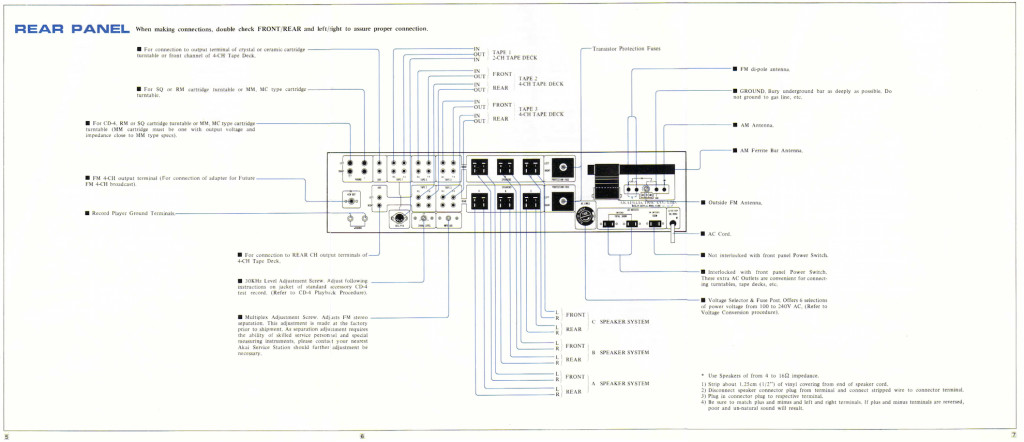 Situated directly above the CD-4 controls is an FM Muting push button and Meter Level Controls to ensure no matter what volume you are listening to your music the VU meters are satisfyingly dancing away. The 4 VU Meters are on display directly above this. If your listening in 2 Channel – only 2 VU meters are lit up and on display, while in 4 channel modes all 4 light up 🙂 Next to these is also the attractive 4 channel mode light to let you know that the amplifier is operating in 4-Channel mode.
Finally we complete our journey and have finally reached the far right of the fascia where we discover the selectors for 3 Tape Monitors giving you even more input sources with output as well. Perfect for connecting into your PC or Mac. And a front panel MIC and DUBBING inputs. And lastly but a very important feature that should not be overlooked is that this unit came with a multi-voltage selector, meaning you can take this unit with you wherever you wish to travel and with a small adjustment you can operate it on any power-grid around the world! 
All up that's a heck of a lot of features! BTW the Exam will be held at 08:00 hours sharp tomorrow. So now that you have your Pilot's license let's take a look at whats under the hood…
This beauty is jam packed full of amplifiers, decoder and equaliser boards, every square inch of space has been fully utilised here. Everything is built upon its own separate board.
The amplifiers consists of a direct-connected pre-amplifier and a double-push-pull Darlington configured SEPP-ITL-OTL Power Amplifier. In stereo mode this setup produces 50 Watts RMS per channel at 8 ohms while in Quadraphonic Mode it generates 32 Watts RMS per channel at 8 ohms.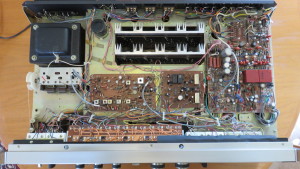 This unit is powered by a dual +/- power supply consisting of a large laminate-core transformer. In this configuration only a single large smoothing capacitor is directly integrated to the power supply circuit while other smoothing capacitors are built into the power amplifier boards directly.
It is finished with a genuine wood veneer case and dark brushed aluminium fascia and all up weighs an hefty 20.5kg!
What doesn't translate with the technical specs is it's sound. Warm, silky and detailed sound with heaps of low end is what you can expect from this Receiver. You will want a large room to play this Monster in so you can enjoy it in it's full glory. 
It's decoders are excellent and you can achieve brilliant channel separation in it's various Quadraphonic modes. Many quad amps suffer from lack of power, but not this bad boy, it is the second most powerful Quadraphonic amplifier in my collection, and I am almost certain this was the most powerful quadraphonic Receiver in 1973.
Mine admittedly get's most use in Stereo playback, but with just a flick of a switch it's ready to play quadraphonic! This unit would also be fun to setup for 4-track recording either to digital or reel-to-reel.
It is seriously is one of my favourite Receivers (for both Quad & Stereo) for it's unique styling and sheer size and I just love its character, warmth and power and I currently prefer it over any Sansui I have auditioned to date! I am currently restoring Pioneer's King Quad the QX-949A, when I am finished I am looking forward to running these two head-to-head!
Specifications:
Power Output:
           2-Channel Mode: 50 Watts (x2) Continuous Power Output @ 8 ohms.
           4-Channel Mode: 30 Watts (x4) Continuous Power Output @ 8 ohms.
Frequency Response: 10Hz – 60kHz at 8 ohms (-3dB)
Harmonic Distortion: 0.5% at Rated Power Output, 0.05% at 20 Watts
Input sensitivity: 3mV (mic), 3mV (MM), 170mV (DIN), 170mV (line)
Signal to noise ratio: 35dB (mic), 35dB (MM), 40dB (DIN), 35dB (line)
Output: 170mV (line), 34mV (DIN)
Dimensions: 650 x 168 x 426mm / 25.6 x 6.6 x 16.8″ / (W) x (H) x (D)
Weight: 20.5kg / 45.1 lbs