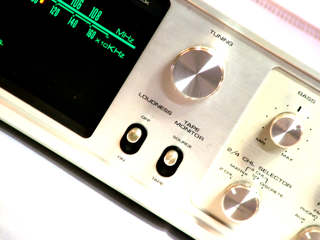 Sanyo is not considered a sexy brand today with its corporate focus in components, solar cells and batteries. However in the 1970's Sanyo produced some very impressive HiFi gear, the brand is considered as a sleeper amongst the vintage HiFi enthusiasts, meaning that the brand isn't recognised widely but the components perform well, so well in fact there are vintage models you would pay hundreds of dollars more for that wouldn't perform as well as these.
Sanyo purchased Fisher (the brand that created component HiFi) in 1975 and it was Fisher that produced many of the 1970s HiFi gear for Sanyo in the US. In Japan Sanyo produced many high-end units under the brand name OTTO and sometimes Sanyo-OTTO.
I have not been able to find any reliable information on this model in terms of specifications. This particular unit was a Sanyo/Fisher model produced around 1975/76 and is a Quadraphonic receiver
with built in support for Discreet, SQ and Matrix sound with an external adapter available for CD-4.
While this is not a top-of-the-line model, I like it for it's distinctive look and particularly warm sound. It features inputs for Auxiliary, Phono, FM, FM Stereo and AM,  4 Channel AUX and 4 Channel Tape and DIN. 
The sound is has that warm associated with valve amps and is accompanied with a surprising bass response even at low volumes. While this unit isn't a powerhouse designed to rock your foundations, it performs well at moderate levels. My personal unit is operating in
2-Channel mode driving a pair of 100W RMS Jensen SPX-5 series speakers which it powers effortlessly at volumes which I find comfortable in my living room.
I invited a friend of mine who is a recently signed recording artist down to my holiday shack where this unit is located and she
attached (to the Sanyo) her personal ZOOM Pro Digital Recorder which she had taken into some of her studio sessions. Now, the ZOOM was just her personal recordings of her sessions and not the actual studio recordings, anyway this Sanyo's sound blew her away, her own words were "My voice has never sounded so good!"
She asked me where she could find one of these units and my reply was "Good luck!" at the time I only had this one unit and I was definitely not parting with it!
Posted In: Quadraphonic, Receivers