Superb Early 70s Sansui Components – Amplifier, Turntable, Cassette*, Analog Effects Unit, 2-Way Radiator Speakers
*Cassette from 1976 Catalogue
This is an absolutely rare and gorgeous combination of vintage Sansui components from the decade when Sansui was at it's finest. 1970s Sansui gear is highly prized and is renown for its smooth analog timbre. While virtually all the gear produced by Sansui throughout the 1970s was of very high quality, it is their early 70s items that demonstrate exceptional build quality right through their product offering. 
At the heart of this setup is Sansui's AU-555A Stereo DC amplifier. This entire series of amplifiers is a favorite with audiophiles the world over renown for their great tonal qualities. It offers bass, treble and mid-range tone controls, high-pass & low-pass filters and loudness. Among its other features it also includes other high end features such as dual turntable inputs (great for parties) and plethora of other input and recording options.
Inside is an extensive amount of shielding that in other brands would only appear in the very top models. A highly musical amplifier with enough power for most entertainment spaces and plenty of headroom. This unit is an as close to mint condition as I have ever seen for a 40+ year old amplifier and it even has some of the original protective packaging still on the fascia, what your seeing isn't imperfections but the original protective packaging!! Stunning!

Another 555A Enthusiast on YouTube

The Sansui RA-500 Effects Unit offers an amazing acoustic experience featuring all analog technology thanks to a liquid capacitor. It's gorgeous **Double Rainbow** display can be enjoyed whether your using the unit or not! This unit can be used to add effects to recordings. Again this unit is in superb near mint condition and is a favorite of both collectors and audio professionals in search of analog effects.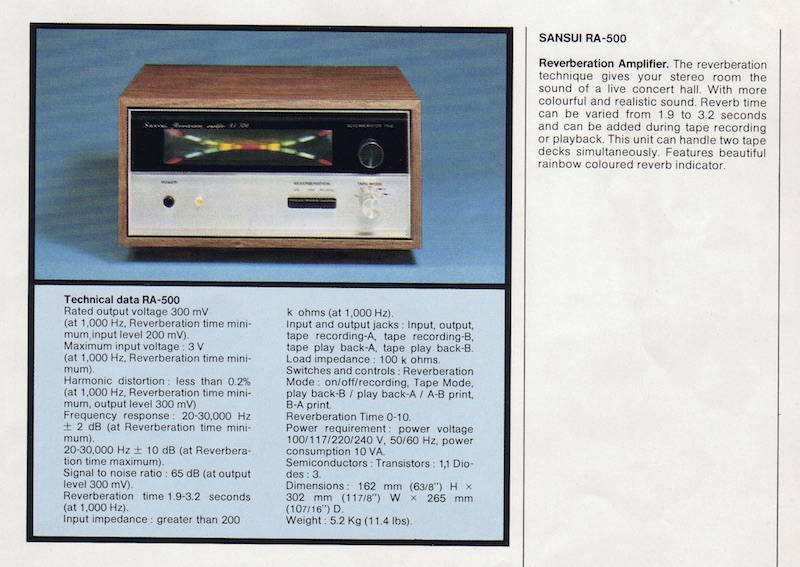 The Sansui SR-1050C is a professional 2-speed manual turntable with a 4-pole hysteresis synchronous motor, belt protection, auto/lift stop mechanism, feather touch cueing control with an induced magnet cartridge and a statically balanced tonearm and a lovely orange power indicator light. Some purists favor the pure manual movement of this model however the SR-2050C was also offered by Sansui that was identical to this one but also featured auto-return. This unit I enjoyed with it's original cartridge and found it very musical and warm, and such a perfect match with the 555A.

Personally I think this is one of the most attractive turntables ever produced by Sansui featuring a gorgeous genuine wood veneer plinth and tinted dustcover with its metal 'bonnet' style stand. Condition wise there are light marks on the dustcover and the some scratches on the steel ring on the rubber platter but otherwise the unit is in superb condition.

The only component not from 1973 is the 1976 Sansui SC-2002 cassette deck. With it's black aluminum fascia and silver knobs it is a great aesthetic match to the rest of the system. It demonstrates Sansui's continued dedication to quality throughout the 1970s and it's build quality is tremendous and it weighs a ton!

It featured large illuminated stereo VU meters as well as an illuminated cassette compartment usually only seen in high-end models. Other features included Dolby noise reduction, independent capstan drive, electronic servo DC motor and a responsive well-dampened VU. This unit has some signs of wear but still looks gorgeous!!

To complete this system are the stunning Sansui SP-70 2-Way speakers from the only series within Sansui's range from the 1970s to feature metal dome tweeters! Also featured are the unique 8" inch woofer incorporating an aluminum radiator for, as Sansui puts it, "unlimited stereo pleasure!". It's important to note that this radiator is not just a passive dust-cover that a part of conventional woofers. If you ever come across a pair where the center dome of the woofer is depressed you can be guaranteed it will adversely effect it's performance.

The build quality of these speakers is astounding, they are very heavy and clad in a genuine walnut veneer (not vinyl like many late 70s speakers that are now peeling) and feature the signature Sansui lattice grilles. The attention to detail is evident in all aspects of this speaker with even the rear tonal control panel that sports a heavy high quality knob featuring a spun aluminum finish. These speakers are in excellent condition.

Posted In: HiFi Systems