______
1976 – 1977 Pioneer & Technics HiFi Combination!
A beautiful looking and sounding system from the Golden Era of Audio with components produced between 1976 and 1978.
This system features:

Pioneer CX-7000 Cassette Receiver
Pioneer PL-514A Turntable
Technics High Sensitivity Speakers
1977 Pioneer CX-7000 Cassette Receiver
This is an Extremely RARE Vintage Pioneer Cassette Receiver highly popular with cassette enthusiasts and features warm but punchy sound. Now typically all-in-one combinations items are not generally real High Fidelity or even good quality items.
But not this Bad Boy!

Why? It was built between 1976 and 1977 when Pioneer's quality and performance were at their peak and virtually unrivaled. During this period the legendary SX-##50 series was being produced and a lot of that engineering went into this item, and some of the hardware as well. Featured on it's front panel are 3 of the large tuner knobs used on the SX receivers of the period!! I love the VU meters on this system, combined with the big knobs I think it is a gorgeous and unique piece.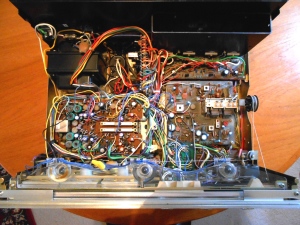 The first thing to note when opening up this one is that it is comprised of separate multiple boards and components! The Tuner, Amplifier, Cassette and Power boards have all been kept separate (Cheap 'n Nasties tend to have everything built into a single board).
Secondly the amplifier and power supply in this unit are also very decent for it's class. A heavy transformer is coupled to two generous 6,700uf filter caps, giving this unit plenty of headroom and dynamic power for it's rating. In fact some highly regarded Sansui's like the Sansui 5050 Receiver had almost identical power caps (6,800uf) to power an amplifier that was producing 33 Watts RMS per channel!
The CX-7000's amplifier is rated at 25 Watts RMS per channel with 0.3% THD, real watts! This approximates it very closely to Pioneer's SA-6500 component amplifier, which was only slightly up-speced to this unit. This unit enough low-end and power to comfortably host a party!

The tuner section is excellent as is most Pioneers from this era. The cassette deck section incorporates a DC servo motor and an 'ultra-precision' capstan and a large fly-wheel. It also features an auto-stop mechanism, Dolby Noise Reduction, chrome tape support and an illuminated cassette bay. And I have to mention once again the build quality and weight of this item, it is just so excellent!
This unit had been down at my holiday house and was effortlessly powering a pair of 100 Watt RMS Jensen's. A friend of mine put on some of his favourite Dub-Step tracks and was gob-smacked at the sound!
Specifications
Power output: 25W per channel
Total harmonic distortion: no more than 0.3%
Damping factor: 40
Frequency response: 30 to 15,000Hz
Hum and noise: 90dB
Dimensions: 430 x 220 x 357mm
Weight: 13.2kg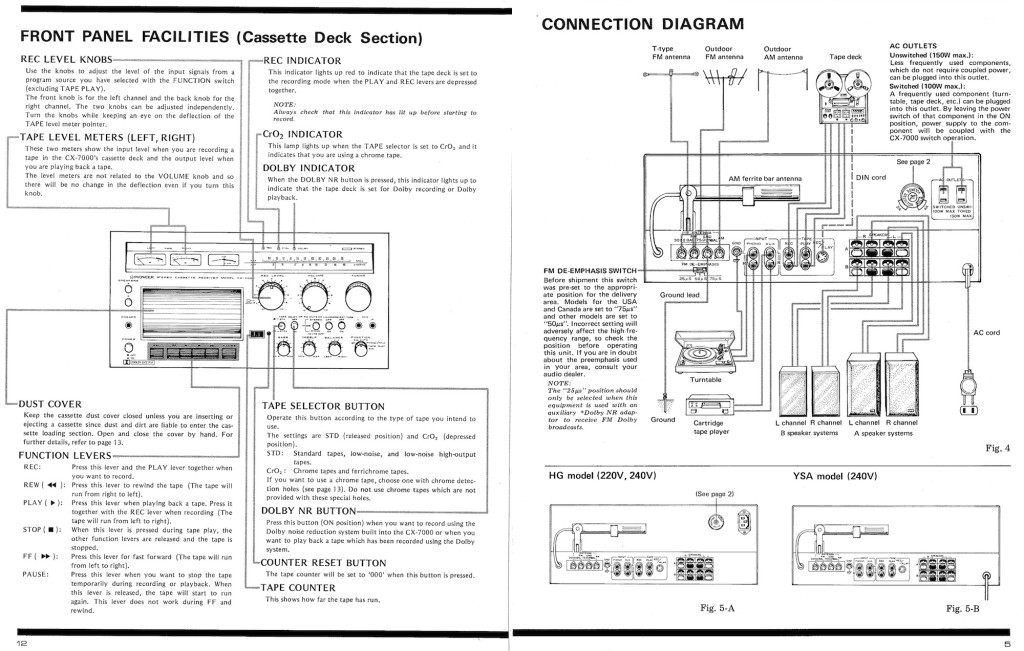 1979 Pioneer PL-514A Turntable
This was one of Pioneer's most popular turntable series for both newbies and audiophiles during this period. The Motor was tuned to a stable AC frequency as opposed to voltage to achieve low wow-and-flutter of only +_0.06%. It also featured a very high quality tone arm and auto-return/auto-shutoff system with anti-skate and oil-dampened cueing system. – Classic design and performance!
Technics SB-440 3-Way Speakers (1976-77)
These rare and legendary looking speakers were part of Technic's 1976 to 1977 High Sensitivity Speaker Range and featured a 3-way bass reflex design with multi-linear horn and a cone tweeter. The horn is an extremely heavy component in its own right and made of cast iron?
Power Handling: 50 watts
Impedance: 8 ohms
Frequency response: 35Hz – 20kHz
Sensitivity: 93dB
Crossover Frequencies: 1.5kHz / 7kHz
Dimensions:358 x 595 x 317 mm (Width x Height x Depth)
Weight:17.4 kg
Year:1976 – 1977
Posted In: HiFi Systems