In it's long history Sony have produced some iconic consumer electronic designs and have introduced some truly revolutionary products like the Sony Walkman. Their HiFi components during the Golden Era were certainly unique and Sony did not 'borrow' their designs as so many other manufacturers did in the 1970s.
This gorgeous composite system comprises early-to-mid 70s Sony components with Realistic Nova 6 speakers.
Now I know what your thinking, what I am doing paring a gorgeous Sony Receiver with Radio Shack brand speakers? Well before you commit me to the asylum know this, the Radio Shack 'Realistic' brand is an absolute fave amongst vintage audiophiles, and these Nova 6 speakers demonstrate so many reasons why.
Firstly they are made of genuine walnut veneer cabinetry and feature gorgeous lattice grilles and are very heavy for their size.
Acoustically they image beautifully, are incredibly musical and just have a superb velvety timbre with an amazingly deep bass response even at low volumes – down to 30Hz.
These 2-way speakers sport an 8″ woofer and 3″ tweeter with an adjustable crossover allows you to adjust the treble response to suit.
So that said, lets talk Sony! At the heart of this setup is the Sony STR-6046A Receiver in absolutely beautiful condition. It was a 20 WPC RMS Receiver with an original 1974 RRP was $249.95USD which translates to over $1,200.00 USD in 2015.
Finished in a gorgeous real timber veneer, this unit has enough power for moderate listening levels that would suit apartments and most average size living areas. It features some luxurious options that were typically only found in high-end units such as illuminated input displays and dual mic inputs.

What strikes me most about this Sony is its tremendous quality, and this translates into what you feel when you touch this unit, it has solid knobs with a decent resistance to them, illuminated input dials and it's timber veneer just glows. And it's sound doesn't disappoint either with it's effortless silky tones with warmth and character.

The TC-134 SD cassette deck is one  is one of the highly popular studio-style decks, and is in superb condition and features Ferrite & Ferrite Heads, supports normal and Cr02 tapes, Dolby NR, analog needles and fully automatic stop mechanisms, twin MIC inputs and recording volume sliders.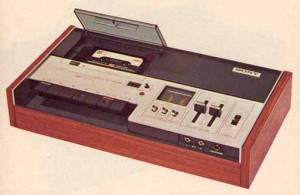 This was one of Sony's high end tape decks of the day and this is evident in it's build quality, it's original 1973 RRP of $240USD would place it over $1200USD in 2015 money. It has more than the average number of belts (I think at least 5!) which I replaced.
It is a 2-Speed, belt-driven turntable fitted with an S shaped tonearm and has many important features which contribute to the faithful reproduction of your records.
These include a statically balanced tonearm compatible with an induced magnet cartridge and an effective anti-skating compensator.
The platter is made of die-cast aluminum alloy, driven by a belt from a 4-pole hysteresis synchronous motor to help reduce wow and flutter.
Finally, the PS5100 is provided with an arm lifter to prevent stylus and record damage, and an auto-return and auto-reject mechanism permitting semi-automatic operation.
Sony STR-6046A Receiver
Inputs: 1 x Phono MM; 2 x Tape; 1 x AUX; 1 x Mic (Stereo inputs) Inp. Sensitivity High Level: 250 mV
Outputs: PRE OUT REC OUT REC/PB
Equalizer Tone Controls: Bass; Treble
Filters: HIGH
Loudness: YES
Power Amplifier Speaker Outputs: 2 x 2 Speakers A,B, A+B; Phones
Continuous power 8Ω: 22 + 22 Watts
Dynamic Power 8Ω: 28 + 28 Watts
Frequency Response: 30-40,000 HZ
Harmonic Distortion: 0.8 % at rated output
Harmonic Distortion: 0.3 (Mono, 400 Hz); 0.8 (Stereo) % at rated output
Physical Characteristics
Dimensions in Inches: 17 x 5.7 x 13.6 (w) x (h) x (d)
Dimensions in mm: 434 x 144 x 345 (w) x (h) x (d)
Weight in lbs: 19.8 lbs
Weight in Kg: 9 Kg
Sony TC-134-SD Cassette Deck
Tape speed : 4,8cm/s
Flutter & wow : < 0,2% ± 0,3% (DIN 45511)
FF & Rew time : 120s (C60)
THD : 2,5%
Bias frequency : 85Khz
Frequency response : 30Hz…15Khz (Type I) 30Hz…17Khz (Type II) 40Hz…11Khz (Type I, DIN 45511) 40Hz…13Khz (Type II, DIN 45511)
S/N ratio : 49dB (Dolby off) Inputs : -72dB (0,2mV) (MIC) -22dB (0,06V) (RCA line) < 10kOhm (DIN line)
Outputs : 0,775V (0dB) (RCA line) 50kOhm (DIN line) 8 Ohm (headphones)
Power Consumption : 18W
Dimensions : 41,2 x 11,5 x 22,3cm
Weight :4.5kg
Arm Length: 295 mm (11 5/8 inches), overall 216.5 mm (18 17/32 inches), pivot to stylus Overhang:        16.5 mm (21/32 inches)
Stylus force adjustment range: 0 to 3 g, 0.5 g increments
Anti Skating force compensation range: 0 to 3 g, 0.5 g increments
Cartridge weight range: 4 g to 12 g
Shell head weight: 10.5 g
Cartridge (VM-26G) Type: Stereo induced magnet (IM)
Output voltage: 4 mV at 1kHz. 5 cm/sec.
Load impedance: 50 k ohms
Frequency response: 15 Hz to 22 kHz
Channel separation: 25 dB at 1 kHz
Channel balance: 1 dB at 1 kHz
Optimum stylus force: 2 g Stylus:
Conical 0.5 mil diamond (SONY ND-132G)
Weight: 6.8 g
Realistic Nova 6 Speakers
8″ Suspension Woofer 3″ Tweeter
Frequency Range: 30 Hz to 20,000 khz L-C Crossover Network
55 Watts Max Power Input @ 8 ohms
3-way cross over switch
Solid Walnut Veneer Cabinetry
Lattice work grille
Vertical or Horizontal placement option
19 1/4″ (h) x 11 1/2″ (w) x 9 7/8″ (d)
Posted In: HiFi Systems