A complete late 70's component system!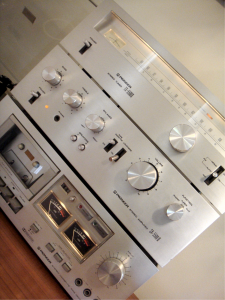 This gorgeous little Pioneer component system features the SA-5500 II Amplifier, the TX-5500 Tuner and the CT-F500 tape deck, all of which hail from around 1977/78. This combination is in truly excellent condition given its ~35 years of age. These components represented Pioneer's entry level high-fidelty components.
Pioneer was very much a market leader in the 1970s, setting the trends for the other brands to follow. Pioneer developed this now iconic style of HiFi with its unique narrow profile and optional wood enclosures in the very early 1970s. This design was picked up in very short notice and copied by competitors such as Kenwood, JVC and Sanyo.
The SA-5500 II amplifier produces that warm sound so typical of 1970s Pioneer. While this unit is clearly not in the 'Beast League' Pioneer's 15 Watts RMS rating is very conservative and this amp has plenty of headroom, low down power and enough grunt to have your neighbours complaining.
Pioneer's tuners from this era a near legendary and the TX2-5500 tuner can reputably grab stations clearly even in your basement, and it looks great lit with a warm golden glow. 
The CT-F 500 Full Auto Stop Cassette Deck incorporates single DC servomotor design, attractive independent volume meters, separate belts and diecast flywheel for smooth constant rotation and supports Fe-Cr and CrO2 tapes and features Dolby noise reduction technology. This unit has had its belts replaced. This deck does appear to have a slightly different finish on it's brushed aluminium.
Together the entire combination looks stunning and compliments each other perfectly, and is in excellent condition with only minimal and minor marks from normal wear. 
iPod/iPhone/iPad and Bluetooth connectivity can be added to this system to bring its vintage quality into the new millennium.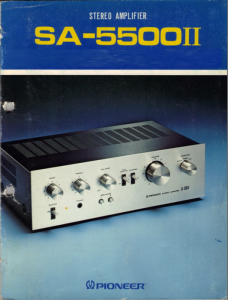 The SA-5500II Amplifier
Specifications:
Power output: 15 Watts RMS per channel into 8 ohms

Frequency response: 20Hz to 20kHz

Total harmonic distortion: 0.5%

Input sensitivity: 2.5mV (MM), 150mV (line)

Signal to noise ratio: 71dB (MM), 87dB (line)

Output: 150mV (line), 30mV (DIN)

Semiconductors: 2 x IC, 7 x transistors, 7 x diodes

Dimensions: 380 x 124 x 269mm

Weight: 5.2kg
Specifications:
FM Usable Sensitivity: Mono; 10.7dBf (1.9uV)

FM S/N Ratio (at 65dBf): 72dB (mono), 68dB (stereo)

FM Capture Ratio: 1.0dB

FM Alternate Channel Selectivity: 60dB

Stereo Separation: 35dB (1kHz), 30dB (30-15,000Hz)

Dimensions: 14 31/32″ (W) X 4 7/8″ (H) X 10 19/32″ (D)

Weight: 7lbs 11oz
The CT-F 500 Full Auto Stop Cassette Deck
Specifications:
Heads: 1 x Hard Permalloy (record/playback), 1 x Ferrite (erase)

Frequency response: 40Hz to 15000Hz (Cr02 tape)

Signal to noise ratio: 54dB (dolby off), 64dB (dolby on)

Wow and flutter: 0.05% wrms

Input sensitivity: 0.3mV (mic), 65mV (line), 9mV (DIN)

Output level: 700mV (line, DIN), 100mV (headphones)

Drive system: 1 x dc servo motor

Dimensions: 380 x 140 x 261mm

Weight: 5kg
Posted In: Amplifiers