JVC is a bit of a dark horse in the vintage audiophile community. While not widely acclaimed IMHO during the Golden Era of the 1970s they produced many beautifully designed and innovative technologies with excellent build quality. And this 1977 direct-drive turntable is a perfect exhibit.
A classic professional grade turntable from 1977. The JVC JL-A40 is a semi automatic direct-drive model featuring an sophisticated electronic servo motor with a specified wow and flutter of less than 0.03%.
By the latter 1970s many of the high-end audio manufacturers were introducing plastic plinths throughout their turntable range. However these plinths are not to be confused with the light-weight cheap plastic turntable plinths of the 1980s. And this JVC especially so.
Firstly the the JL-A40 is very solidly constructed and weights 7.2kg in total. Secondly it incorporates a parallel isolation suspension system that utilises coupled rubber dampers and coil springs to soak up shakes, jolts and jarring giving this turntable a good degree of immunity to jumping.
Other features that JVC built into this model include an 'auto-reject' feature to  prevent your stylus from grinding in the last grooves of your vinyl, a cueing feature, anti-skate, an adjustable height tonearm, pitch control and strobe light.  It was also fitted with a statically balanced S-shape tone arm to correct tracking errors.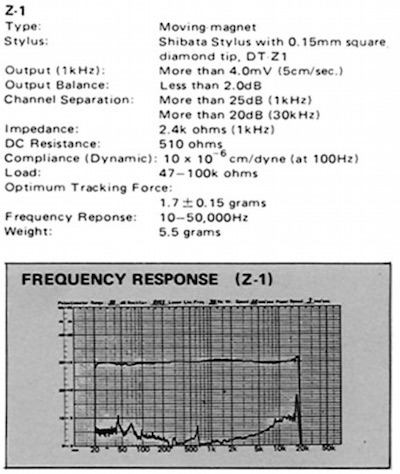 The icing on this cake is that it comes with JVC's very own high-end Z-1 moving coil cartridge. This cartridge is designed for 2-channel and 4-channel playback (including CD4) and features a wide range, clear definition and transparent tonal quality.
Fitted with a Shibata Stylus that places less load on record grooves than elliptical styli,  it follows the groove contours more faithfully thus improving frequency response. Furthermore it's low mass moving structure extends the frequency response to 50 kHz. Other features include a Beryllium Cantilever (better than Titanium), One-Point Suspension, a Light Weight Cobalt Samarium Magnet and Laminated Permalloy in the Pole Pieces.
All up this turntable is setup to enjoy beautiful sounding stereo and quadraphonic in both SQ and the superior CD4 format – another innovation brought to you by JVC!
Posted In: Turntables